Landscaping Service in Plymouth, MI
Executive Landscape Has Provided Landscape Design and Installation Services to Plymouth since 1994!
Plymouth, Michigan offers a lovely mix of history, modern living, and natural beauty. It also offers residents and businesses an ideal location in Southeast Michigan – right on M-14 with easy access to both Detroit and Ann Arbor, Michigan. Plymouth has a beautiful downtown, with plenty of shops and restaurants. It's right where you want to be!
If you live in Plymouth, you have a variety of vibrant places right in your backyard to explore and enjoy. At Executive Landscape, we're helping to bring that vibrancy home to your backyard. Executive Landscape provides professional landscaping services for both residential landscaping and commercial landscaping clients in Plymouth, Michigan. Our landscaper teams can be seen in Southeast Michigan working year-round to bring your commercial or residential landscaping ideas to life. Because we focus our services in Metro Detroit, our landscape designers understand how the local weather and climate conditions in Plymouth, Michigan impacts your landscape for the long-term. Just like a detailed blueprint is essential to building a well-built house, a well-researched and detailed landscape design is essential to building a beautiful, long-lasting landscape.
Plymouth Resident Testimonials
"We had such a good experience we asked them back this summer to redesign our front landscaping complete with a new paver walkway."
"Words cannot describe the professionalism and expertise of Executive Landscape! From the initial meeting to the amazing renderings they provided, to the execution of the project, everything was top notch. Their landscape architect worked tirelessly with us until we were 100% satisfied with the plan before moving forward. He had great ideas on how to use our outdoor space to provide the best of both style and function. The landscape installers were extremely talented and professional, and their work was impeccable! Highly recommend!"
"This is our third major landscaping project with Executive Landscape. Their design and quality work is second to none! I highly recommend them."
Plymouth Landscape Projects
Award Winning Landscape Design
Plymouth Residential Landscaping
Through hundreds of successful landscaping projects, we've earned the reputation as one of Plymouth's premier residential landscaping companies. Exactly how do we do this? Our commitment to quality landscaping service, our creativity in landscape designs, and over 25 years of experience has helped us become Plymouth's preferred landscaping company. We provide custom landscape design and installation services for paver patios, water features, fire pits, retaining walls, outdoor lighting and more. We don't overlook any detail. We even make sure our designs for Plymouth customers take into consideration Plymouth's 2019 tree ordinance to ensure your new landscape is compliant.
For more information on our Plymouth, Michigan Residential Landscaping Services call 248-348-8422.
Plymouth Commercial Landscaping
Does your Plymouth-based commercial property require landscaping enhancements or repairs? Executive Landscape offers comprehensive commercial landscape services which include landscape design and landscape installation services. We can upgrade your current landscaping or perform a full renovation to greatly enhance your company's image. Whatever your needs might be, Executive Landscape provides a variety of landscape design, construction, commercial snow removal and landscape maintenance services to ensure that your investment looks and functions at its absolute best.
For more information on our Plymouth, Michigan Commercial Landscaping Services call 248-348-8422.
Serving Plymouth, Michigan
& Surrounding Communities
For Customized Landscape Design and Installation Services Call 248-348-8422 Today!
Every landscape is unique, so we customize our broad range of landscaping services to meet your specific landscaping needs. Our design team will create a complete plan for your landscape that includes any hardscape features, design elements, and any material that affects the success of your landscape project.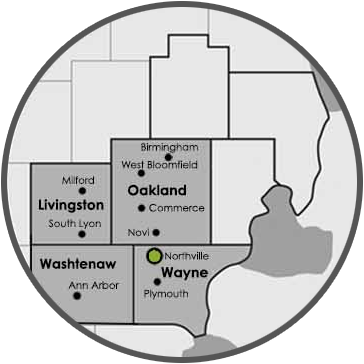 We are located in Northville, MI and our service area extends throughout Wayne, Oakland, Livingston and Washtenaw counties; including Northville, Novi, Plymouth, Canton, Ann Arbor, Commerce, Milford, South Lyon, West Bloomfield and Birmingham.