Our Landscape Design Process
Executive Landscape's team of expert landscape designers will use your vision and our compiled research to create a custom design that will visually communicate your perfect outdoor environment.
Using our powerful 3D design program, we'll generate accurate data that allows us to create beautiful photo-realistic renderings for your review. We also create detailed engineering specifications and installation documents for our team. These engineered specs are the blueprint for our team during the landscape construction phase. Below, you'll find more details on our three-step design process.
The foundation of every project
We begin with an initial, complementary consultation at your home. During this meeting, we'll ask you about your vision for your property, how you currently use its different spaces, and how you want to use your landscape space in the future. The answers to these questions directly impact our design.
You may want an outdoor space for entertaining guests, a swimming pool for the family, or just an outdoor oasis you can enjoy in solitude.
During our visit, we not only take detailed notes of our conversation – we take notes about what we see outside, along with measurements and pictures for our designer's reference.
During the Design Phase, our designers create a custom 3D design of your landscape using powerful 3D design software along with photo-realistic renderings of your future landscape.
We will also develop a list of materials needed and a Project Cost Plan.
Finally, we'll schedule a meeting to review all the designs and drawings, and the project cost plan.  You can see some examples of our 3D designs for one of our favorite projects below!
Engineered Specifications
Once any revisions have been made and we receive client approval on the final design, we will generate detailed Engineered Installation Specifications that our installation team will use to ensure the finished product is accurate and as great as the design intended it to be.
Check out the engineered specification documents from the same project we showed you above. Click on the images to see them in more detail!
Click on any of the 3D designs below to enlarge the image and open slideshow.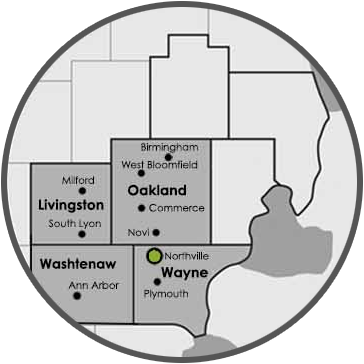 We are located in Northville, MI and our service area extends throughout Wayne, Oakland, Livingston and Washtenaw counties; including Northville, Novi, Plymouth, Canton, Ann Arbor, Commerce, Milford, South Lyon, West Bloomfield and Birmingham.