Expert Landscape Services in Novi, MI
Providing Landscape Design and Installation Services to Novi for over 25 years!
At Executive Landscape, we believe a good landscape design creates a space that's beautiful, functional, and inviting. It should reflect your style and personality as it blends seamlessly with your home. We'd love to help you create the outdoor space of your dreams.
For over 25 years, Executive Landscape has specialized in designing and building high-end landscapes and outdoor living spaces in Novi, Michigan. Executive Landscape offers a comprehensive list of services to meet the requirements to create the outdoor living space of your dreams. We follow a tried-and-true process that always starts with an initial consult where we listen to your goals and objectives to ensure our design reflects your vision.
Designing an outdoor paradise that lasts for years requires local knowledge to work with the elements that exist naturally. Executive Landscape is a locally owned business located just down the road from Novi in Northville, Michigan. So, our designers have comprehensive knowledge of the area's climate, soil conditions, and all the other factors that might impact the long-term success of your home's landscape. We are dedicated to designing a landscape that will last for generations.
Award Winning Landscape Design
Paver Driveways & Walkways
To make your backyard your new paradise, our talented design team can recommend features you may not have even considered.
Our experience designing and installing landscapes for over 25 years allows us to provide you many options for your landscape. Here are just a few of the outdoor features we've installed in Novi landscapes:
Retaining Walls – Retaining walls are not only functional for drainage but can add definition to your landscape. A variety of wall styles can be installed – from natural stone boulders to rock veneer to colorful manufactured wall blocks…no matter the material, you'll love the final results!
Landscape Lighting – Outdoor lighting is one of the most important – and often overlooked – considerations when planning your outdoor living area. Landscape lighting is not only functional but accentuates unique landscape features and adds curb appeal and value to your property.
Patios, Pergolas, and Covered Structures -Being outdoors isn't all about just having fun in the sun. The outdoors is a wonderful place to kick-back for some serious relaxing! Installing a patio or adding a covered structure to your landscape are wonderful enhancements to your backyard. Even a simple covered pergola can be a beautiful landscape touch next to a pool or simply be the perfect place for relaxing and entertaining guests. Executive Landscape's designers are experts at helping you find the best way to use your landscape for your needs!
Outdoor Kitchens – If you love the outdoors, transform your backyard into a space where you can spend more time with your family and friends. An outdoor kitchen can transform your routine family dinner into an opportunity to spend quality family time in the sunshine. It can also serve as a unique area of your home to entertain guests. Executive Landscape can include a variety of features to make the most of an outdoor kitchen space – things like a custom paver patio, seat walls, planters, fireplace, landscape lighting and more. Below are a few more features we can incorporate into your outdoor space:
Have a hardscaping or landscaping project in mind? Give us a call 248-348-8422 to discuss your options today!
Novi Resident Testimonials
Find out why people keep coming back to Executive Landscape! Whether it's installing a landscape for a newly constructed home, or a landscape renovation on an existing home, our clients always receive the highest quality service. We love what we do, but we aren't satisfied until you are too. Read our testimonials and see what your neighbors in Novi are saying about our services.
"Executive Landscape is an exceptional company because of its people. From consultation and design through project completion, the office staff are patient and considerate and work closely with management in the field. Then there is the hard-working crew! Executive Landscape is focused on getting the job done right. Everyone is so professional and personable; it's no surprise that the work turns out fantastic."
"Everything from start to finish went smooth and was very detailed. I plan to use Executive Landscape for yearly maintenance and upkeep. I would highly recommend them for any landscape project."
"From our first meeting with Andy and Rajai we had a good feeling about working with this company. They approached the project with enthusiasm and professionalism, outlining options for both hardscape and landscape that would enhance the look of our home while working within our budget. We wanted a new look and they provided a thorough imaginative redesign. Their 3D CAD design images provided a great first look at what to expect upon completion."
Serving Novi, Michigan
& Surrounding Communities
Have any questions or want more information about Executive Landscape? Call
248-348-8422 Today!
If you know it's time for a landscape renovation, we'd love to help. We will work closely with you to develop a plan that matches your style and budget needs. Get in touch today to learn more about how we can help you create the landscape you've always envisioned.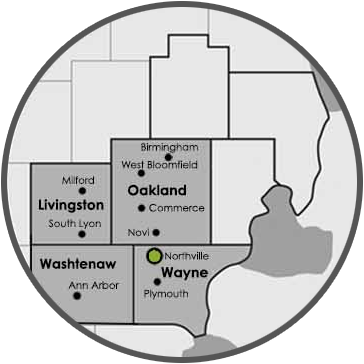 We are located in Northville, MI and our service area extends throughout Wayne, Oakland, Livingston and Washtenaw counties; including Northville, Novi, Plymouth, Canton, Ann Arbor, Commerce, Milford, South Lyon, West Bloomfield and Birmingham.