Landscaping Service in Ann Arbor, MI
Serving Ann Arbor For Over 25 Years
Our local Ann Arbor neighborhoods are rich in natural beauty and historic elegance. From aged brick facades to tree-lined streets and inviting, expansive lawns, the homes in Ann Arbor combine stunning architecture with healthy, vibrant landscapes, and we are proud of the work we have done at Executive Landscape in helping to further this tradition throughout the Ann Arbor community.
We love working with residents of Ann Arbor and look forward to helping you turn your yard into your own personal retreat.
Ready to turn your property into your own personal paradise? Call 248-348-8422 today!
Award Winning Landscape Design
Serving Ann Arbor for Over 25 Years
Amazing Outdoor Living Spaces
We're The Local Landscape Experts
We know what it takes to create your amazing landscape. 
Executive Landscape offers complete landscape design and installation services to suit your commercial or residential needs. We work closely with our clients throughout the entire project to ensure all expectations are met. Let us transform your property into a functional, relaxing and breathtaking outdoor living space.
The goal of every landscape design we create is to capture your unique vision for your outdoor space. That's why Executive Landscape's designers take a custom approach to each landscape project. We want to bring out the unique aspects of your property, as well as introduce new landscape features to achieve your vision. As a full-service landscape design and build company, we'll work closely with you throughout the landscaping process, from initial consult to site visit, to design and installation.
Our design team will work with you on site to design your ideal outdoor living area. Our team has the expertise and skills required to bring your project to life through careful plant and material selections along with comprehensive construction and installation services.
Keep in mind that Executive Landscape is a local company – so we know what plants and trees to avoid, and which ones will thrive in Ann Arbor. Our landscape design for your property will reflect our vast local knowledge of Ann Arbor's climate, soil conditions and natural resources.
After we've finalized your landscape and hardscape plans, it's time to put shovels in the ground!
We start with any prep work that is needed like slope grading, removing unwanted existing plants, ground-marking and mapping out the new hardscape and landscape features.
Once the prep work is complete, we start installing your new landscape. Since each design is unique, each landscape installation is unique, as well! Here are just a few examples of the types of installation services we can provide:
Native and Ornamental Planting: Trees, plants and shrubs have the ability to lend an element of softness, elegance and beauty to your landscape.
Water Features: A fountain, pond, or waterfall can act as a dynamic focal point of your landscape.
Fireplaces & Fire Pits: Adding some warmth to your landscape will extend the amount of time your family can enjoy the outdoors and can draw people outside in cooler weather.
Outdoor Kitchens: Whether you just want a grill, some counter space and storage, or an elaborately outfitted full kitchen setup with a bar and refrigerator, a backyard kitchen is a great way to accommodate outdoor entertaining.
Paver Patios and Walkways: The beauty of a paver patio, driveway, or walkway will last a lifetime. Our hardscape paver installations always add the "Wow!" factor to our landscape projects.
Covered Structures, Trellises & Pergolas: Whether you're looking for some summertime shade, or just a focal point in your landscape's design – adding a substantial structural element to your landscape adds to the functionality and beauty of your yard.
These are just a handful of our Ann Arbor landscape services, if you have something specific in mind, give us a call at 248-348-8422! We've done it all!
Landscape Design & Installation Photo Gallery
Click an image to zoom and open slideshow.
What Our Ann Arbor Customers Have to Say…
"It was a pleasure working with Jackie and the team at Executive Landscaping. Pricing was competitive and the service was fantastic. Jackie worked with me to personalize the project, offering recommendations that worked for the space and incorporated my taste. We had a small issue the day after the project was completed…our landscaping had been disconnected, we called and they immediately sent someone out to correct the issue."
★ ★ ★ ★ ★
Ann Arbor is blessed with a beautiful natural landscape and an abundance of trees. With more than 50,000 trees within the city limits, Ann Arbor is known as "Tree Town". The trees provide natural shelter from the hustle and bustle of downtown Ann Arbor and the University of Michigan's campus. Whether you have dozens of trees on your property or just a few, Executive Landscape can create a custom landscape design for your home that accentuates the existing highlights of your property.
Have any questions or want more information about Executive Landscape? Call
248-348-8422 Today!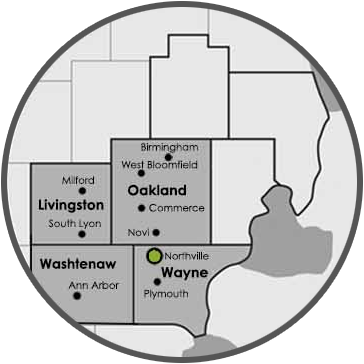 We are located in Northville, MI and our service area extends throughout Wayne, Oakland, Livingston and Washtenaw counties; including Northville, Novi, Plymouth, Canton, Ann Arbor, Commerce, Milford, South Lyon, West Bloomfield and Birmingham.